CUSTOMER TESTIMONIALS
Watch and Read our Success Stories
If you feel tired all the time, think you could benefit from losing a few pounds, of wish to tone up your body, then Core Training is the answer to your prayers - whether you are looking for a complete body overhaul or a few pointers to a healthier lifestyle.
Your goals come from your dreams. Inspiring dreams will give you energy to set inspiring goals. which in turn, will help you take the action to day by day win this challenge. We feel confident this stories will help you to make the right decision to transform your body and improve your quality of life.


"... I lost 11" total and 2 dress sizes…!"
Hi, first of all I would like to start by saying that when I first started with the Master Moves Program I was a tad skeptical on what I could actually achieve in the first 7 weeks, it was very inspiring to hear the wonderful testimonials saying that I can lose a few dress sizes and lots of inches in these 7 weeks while continuously training and learning the Master Moves system. Being a Wife, Mother and Running my own business I found working with the Master Moves System, Fun, Easy and most of all portable, oh and did I say FUN, it actually feels like your dancing and I have never got board or felt like it was not challenging enough to feel like an amazing work out.I found the exercise fun and actually felt the work out with-in the couple of minutes, and I loved the idea that I could do this in my own home and did not have to go to the gym everyday and do that strenuous work out. Now, I am more focused to actually doing the exercise and my two year old dances along side of me while mommy is exercising and he is getting some exercise as well.
Deborah Gillam
"...I lost 3.5 inches around my tummy!"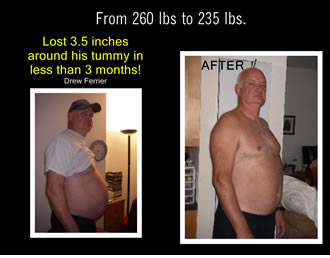 "We started the Master Moves on April 4, 2008 and just finished. We tried to count approx. 100 days. I wasn't sure as to how to take the before and after pictures, so what I'm sending you is of course amateur pictures. Drew stepped on the scale in April, at 260 lbs, and his tummy (around the biggest part) was 50 and 1/2 inches. He stepped on the scale today and was 235 lbs (and extremely happy), and his tummy was 47 inches. HE was even shocked as he said he couldn't believe it. All previous DIETS never did work nor did they keep the weight off. We did the Master Moves"almost" faithfully every day, 100 - 200 twists every morning and every night. If you need more information, please don't hesitate to let me know. Thanks again and we await your reply."
-- Drew and Julie Ferrier, Penticton, BC, Canada
You will change how you feel, not just how you look!

The Master Moves system is easy, fun, and portable, otherwise I wouldn't do it. I don't have time in my life for things that are not fun.

I can't believe the results I got 7 weeks of Core Training, was able to stand up and have fun and see better result from getting on the floor and doing crunches or sit-ups. I lost 10.5 inches all over my body.

Master Moves is a great piece of equipment and a great program because is easy to use and easy to follow along. It's everything you need in an exercise program.

Ariane Jaschke
"I have fun spinning in my own living room!"
I couldn't be happier with the results that I have achieved using Master Moves. As an aspiring yoga instructor and a full time university student, I am a very busy person. I have fun spinning in my own living room. It just doesn't get better than that!
Master Moves is something that I would recommend to anyone, no matter what their fitness level or situation. For me, it represents a variant of physical fitness that fits into my holistic lifestyle, and that is a rare thing. For a serious yogini, core strength is essential, and Master Moves has helped me to deepen my yoga practice a great deal. My backbends are deeper, I feel more grounded in my stance, and I feel stronger overall.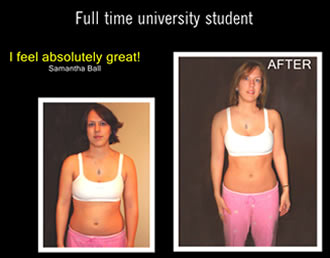 Having greater core strength gives me greater stability and I am able to safely push my practice to new limits. Not only am I enjoying the way that Master Moves has helped me evolve in my yoga practice, I am also very happy with the visible results in my body. I feel absolutely great.

-- Samantha Ball